The Anova Precision Cooker is an excellent sous vide immersion circulator that can cook an unbelievable array of dishes. It's an affordable and easy-to-use device that has a large number of cool features, so it's perfect for anyone who wants an outstanding product at an unbeatable price point!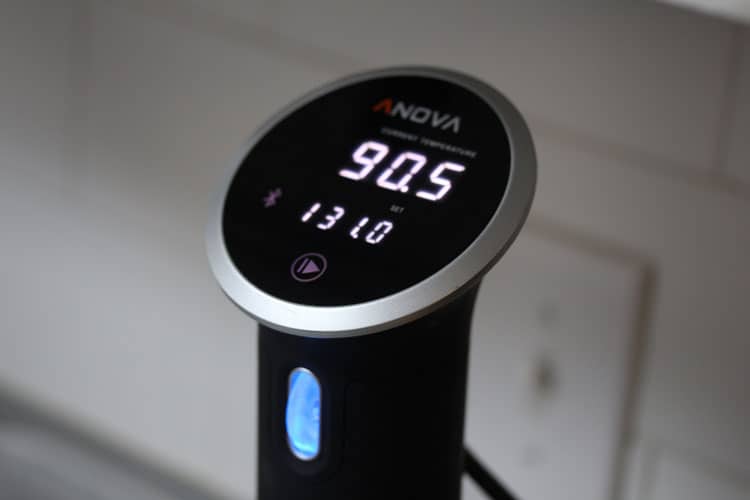 Take a look at the review below to learn more about this life-changing kitchen gadget...
Introduction
Before we jump into all the neat features of the Anova, let's start with a little breakdown of what sous vide cooking is.
Sous vide is an innovative cooking technique that allows you to prepare an endless variety of foods, from steaks and poultry to fish and vegetables. Sous vide, unlike traditional methods such as grilling or frying, ensures that your meals are uniformly cooked every time by utilizing water rather than oil or gas.
The result? An amazing tasting meal with a tender, juicy interior and an evenly browned exterior.
This revolutionary cooking technique has taken the world by storm within the past few years. With the rising popularity of sous vide cooking, tons of new Company's have surfaced selling their own immersion circulators.
But with so many immersion circulators on the market today, what's the best option?
This review will take a deep dive into the Anova, and discuss why it stands out among other brands available.
Anova Precision Cooker in Action
Now that you understand what sous vide cooking is, let's take a look at the Anova Precision Cooker itself.
The first thing I noticed when receiving my Anova was how user-friendly and simple it is to use. To start, the device is extremely easy to use and only requires you to plug in the appliance to start cooking.
The device has an analog dial and a digital temperature control system, making it simple to regulate the temperature.
The Anova will then maintain the temperature you specified by circulating the water and bringing it to the correct temperature.
But beyond the basics of sous vide cooking, the Anova Precision Cooker offers users the highest value for:
Reliability

- With full control over the process, users can easily track cooking temperatures and set specific cook times for the perfect result every time.

Food Integrity

- Never risk overcooked, dried out food again.Cooking sous vide ensures that all of the delicious juice and flavor are preserved within the dish.

Freedom

- No longer anchored to the stove top or barbecue, constantly worrying over the meal and requiring our undivided attention. The Anova offers freedom unlike others with pre-set timers, automatic temperature, and remote functionality.
Now that we have a baseline of the benefits of sous vide cooking, along with some insight into how the Anova Precision Cooker breaks away from the pack, let's dive into some specifics to get a clearer picture of why it's the superior product currently on the market today!
Anova Design
There have been a few irritations of the Anova Precision Cooker. The latest model is definitely a step up from its predecessors. Its enhanced durability, functionality, and lifespan stem from the ingenuity in the engineering of the tool.
The waterproof design of the Anova Precision Cooker is rated for Ingress Protection (IP) IPX7 with a stainless steel tube and capable of withstanding total water immersion without damaging any of the vital processing components. This cooker won't rust out or ever let you down, ensuring long-lasting, premier cooking.
Making space for another bulky kitchen appliance is a puzzle all of us have grown tired of solving, luckily the compact size (slim dimensions: 3.1 x 5.3 x 12.8 inches) of this unit makes the Anova Precision Cooker a mainstay without the countertop hassle.
Offering unsurpassed clarity, the LED display makes manual operations crystal-clear with easy to identify values and exceptional response.
The spinnable dial allows for convenient temperature setting with a superior tactile feel, offering an unmistakable connection.
Convenient and easily adjustable clamp attaches to nearly any container making the Anova Precision Cooker the ideal choice for any circumstance.
Cumbersome cleaning after cooking is now a thing of the past with this unit's modular design, allowing for individual components to be disassembled for exceptional cleaning without the hassle of traditional units. The Anova Precision Cooker supports users at every turn.
Anova Precision Cooker Features
The main features of the Anova Precision Cooker are its Wi-Fi and Bluetooth capabilities. Also, its piano-finish, glossy black Anova imprinted, LED panel.
Sous vide cooking has landed safely in the internet era with this Anova Precision Cooker. Simply connect to Wi-Fi and enjoy the convenience of cooking from the comfort of the couch! Featuring 2.4 GHz WLAN/Wi-Fi connectivity, this unit will supply the necessary speeds for a reliable link and stellar processing.
Anova goes the extra mile with its featured mobile app to provide all the information we need. Just plug in the device, connect to Wi-Fi, download the free app, and let your sous vide journey begin!
The Anova App
The Anova Precision Cooker's mobile app offers everything needed to prepare nearly any meal. Developed for the new user, but with information that will surprise the most seasoned sous vide enthusiast, the app has it all.
Most notably is the Guides section (especially for new users) that features a list of available options such as beef, poultry, eggs, fish, lamb, pork, and vegetables. Once the necessary selections are made, another page launches with available meals based on the specific choices. This allows users to customize their meal preparation with recipes catered specifically to individual selections.
The app also features additional community and user tools, including Connect to link the new device, Profile to track search history and register user email accounts, and Favorites to make sure a delicious recipe is never far from hand.
The mobile app offers everything needed to get started and stay motivated with delicious meals! Plus, the outcome will obviously be delicious when prepared with the Anova sous vide!
Performance Specifications
The Anova Precision Cooker's performance specifications can be here, but let's take a closer look and see how these features really make the Anova option the only option.
Power
Given the 1000 watt design, this precision cooker performs above and beyond the average unit found through other manufacturers. The device easily reaches the meal's necessary cooking temperature at just under 33 minutes when starting at room temperature, while a lightning fast 11 minutes when utilizing hot water from the kitchen taps. Additionally, the Anova Precision Cooker boasts a flow rate of 8 liters per minute to ensure the optimal circulation is achieved.
Precision
Precision cooking is a mainstay of any sous vide chef and Anova knows that both beginners and professionals need a reliable circulator. The Anova Precision Cooker delivers accurate temperature control of +/- 0.2°F (0.1°C) for perfectly cooked meals every time. The unit also features temperature control beyond the market standard with a range of 32° to 197°F. This means nearly any meal can easily be prepared (and enjoyed) with this mighty circulator!
All of the power wattage in the world won't help us if our circulator can't effectively pump water. Thankfully the fine folks over at Anova understand this better than anyone. The Anova Precision Cooker features a 2.1 - 2.4 gallons per minute (GPM) (or 7 - 8 liters per minute) with 360° directional pump capability to boost the necessary heating and enhanced efficiency to further reduce wait times.
Size
Sleek meets durability with the 1000-watt Anova Precision Cooker. This is the ideal middle ground between the 750-watt Nano model and the heavy-duty 1200-watt Pro series Precision Cookers. This unit exhibits a 2.75in (6.98 cm) length, 2.75in (6.98 cm) width, and a height of 14.75in (36.8 cm) showcasing the perfect operating dimensions.
The cooker provides an immersion depth of 2.5in (6.35 cm) to 7.25in (18.415 cm). A clamp with a maximum opening of 1.25in (3.175 cm). And a weight of 2.5lbs (1.1 kg) for efficient processing without the unnecessary bulk as found with lower quality units.
Safety
While this precision cooker has more power than the average circulator, Anova provides several internal mechanisms intended to enhance user safety. Real-time information is available via the mobile app, allowing you to check on the progress of the meal. If an issue arises, the precision cooker alerts users and can be paused immediately.
The unit provides a power input of 110-120 volt alternating current (VAC) for US/CA/JP/TW regions with a separate 220-240 volt model for EU/UK/AU region plug types. Along with a bi-metal fuse to ensure the unit never reaches dangerous operation temperatures before automatically shutting off.
This unit features water sensors that will inform users when there is too much or little water in the container. If too much water is detected, the unit will automatically shut off to prevent damage. This also help mitigate other potential hazards, such as a ruined steak!
Usability
Controlling the temperature of the Anova via the supporting mobile app is an ultra convenient feature. However, we understand this is not for everyone. But never fear! This unit features all of the essential manual controls and usability with easy to operate, touch-control buttons, adjustable and detachable clamp, and removable skirt for improved functionality.
Durability
The Anova Precision Cooker utilizes the highest-quality plastic and stainless steel material to offer its users the very best in performance and overall durability. No longer do we need to worry about the everyday accidents that would otherwise cause unsightly dings and dents. Even more? The water and splash resistant IPX7 rating helps maintain the integrity of vital electrical components. That means this unit can run for many years to come!
Connectivity
Connectivity has never been easier with the Anova Precision Cooker, featuring both Bluetooth BLE 4.0 technology and Wi-Fi capability, this unit maintains a connection and provides everything needed for remote cooking.
Clearly the Anova Precision Cooker is an appliance that will quickly become a mainstay of any kitchen. With a low entry cost and a built-to-last design, the Anova is an exceptional choice.
Final Thoughts
The Anova Precision Cooker is an incredible addition to any kitchen. It is perfect for anyone looking to dive into sous vide cooking. This unit provides an effective heating platform with an easy-to-use interface that offers everything you need to get started. Also, the quality material construction ensures that this unit will last for an incredibly long time.
I've used the Anova Precision Cooker for multiple years and am still blown away by the quality and performance. If you're in the market for a sous vide or an upgrade, this would be my strong recommendation.
Delicious, perfectly cooked food is only a few clicks away!