Sous vide apples are truly fantastic. In this recipe, we sous vide apple with brown sugar, cinnamon, nutmeg, and butter in the bag.
The result? Insanely good and fool-proof apples in cinnamon sauce for any occasion.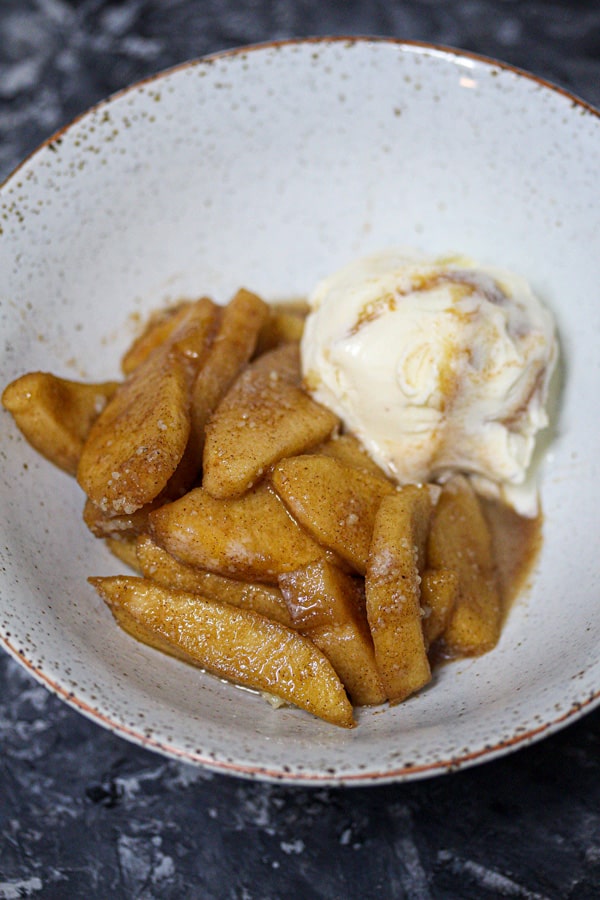 I have to admit, I was skeptical at first. Why spend one-hour cooking apples sous vide when you could simply bake or poach them? But I decided to give them a try cause I heard great things, and my mind was instantly changed. They are amazing.
First off, the flavor tasted like the true essence of apples. Second, it is incredibly simple to get awesome results. And last, the texture comes out perfectly fork-tender and delicious.
Now go on and whip up sous vide apples for your next dinner party, apple pie, or literally any occasion. You won't be disappointed.
Packaging
An essential part of cooking sous vide is putting ingredients in an air-tight bag or container. The two most common techniques to package your ingredients are vacuum sealing and using the water displacement method.
A vacuum sealer removes all the air and seals the contents of a plastic bag through a vacuum. Ensuring the food is airtight and properly sealed prevents the bag from floating, which can result in uneven cooking.
The displacement method is a technique where you first place your food and marinades in a sous vide bag, submerge the bag in a container of water, and allow the pressure to force all the air out of the bag.
Both of these methods work for this recipe, so use whichever you feel more comfortable with!
Apple Time and Temperature
Through lots of R&D, we've found that cooking apples sous vide at 79.5C/175F for one hour is the perfect combo. This time and temperature give apples the perfect texture and taste that you are seeking.
Just make sure you have a reliable sous vide that accurately regulates the temperature of the bath or your results may vary (check out the Anova or Joule).
Special Equipment
Sous Vide Machine – This one is obvious. To cook sous vide, you're going to need a device to precisely regulate the temperature of the bathwater. The two best sous vide machines in the game right now are the Anova Precision Cooker and the Breville Joule.
12-quart Container – Although you can use a basic stockpot for your sous vide cooking needs, I highly recommend buying a large plastic container. They are inexpensive and spacious, so you won't have to worry about cooking a large batch of cheesecakes in a small pot. I recommend a 12 quart Rubbermaid container, as it is BPA-free, sturdy, and large enough for just about anything you will be cooking.
Container Lid – If you are going to buy a plastic container, I highly suggest buying a compatible lid for it. When you sous vide for a long duration, the heat of the water causes evaporation. With a lid, it eliminates a majority of the evaporation so you can cook for hours care-free.
Next Level Sous Vide –Looking to take your sous vide skills to the next level? The Next Level Sous Vide eCookbook will push your culinary boundaries with 65 delicious recipes that are equally approachable and tasty. With pro tips and a detailed explanation of the sous vide process, you will be on your way to maximize your sous vide skills.
Check out our full list of recommended gear here.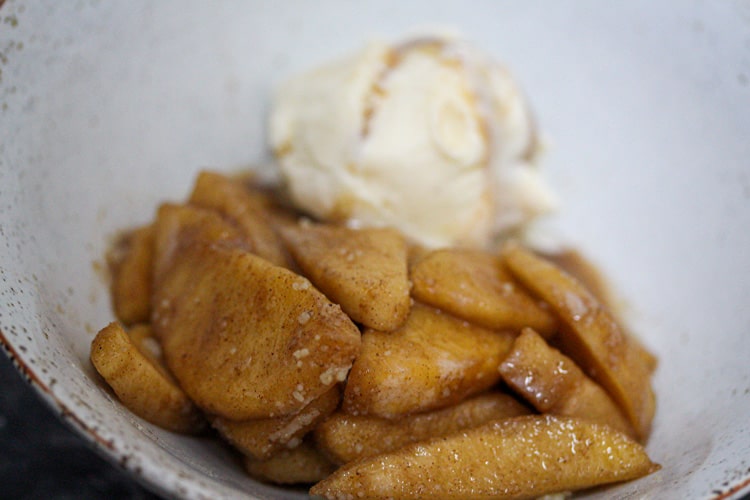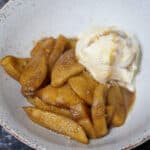 Sous Vide Apples in Warm Cinnamon Sauce
Total Time
1
hour
5
minutes
Ingredients
4

Gala apples, peeled and sliced

½

cup

light brown sugar

1

teaspoon

cinnamon

¼

teaspoon

nutmeg

3

tablespoon

unsalted butter
Instructions
Preparation
Set sous vide machine to 79.5C/175F.

Add sliced apples, brown sugar, cinnamon, nutmeg and butter in sous vide bag. Seal and shake bag until ingredients are well combined. Remove air through a vacuum sealer or the displacement method, and drop the bag in the bath for one hour.
Finishing
Remove bag from bath, pour apples and sauce on to a serving plate. Serve with some ice cream or just enjoy the delicious cinnamon apples on their own!