Sous vide lamb souvlaki is what dreams are made of. The lamb souvlaki is cooked to perfection using a sous vide, then covered in a delicious homemade tzatziki sauce. The result? A masterful tasting meal that you can whip out for game day, pool parties or a barbecue at the park.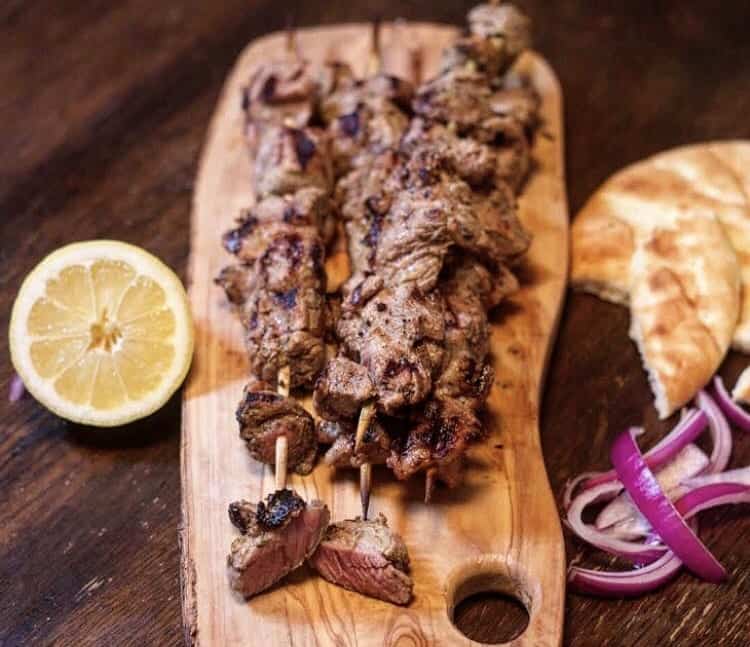 Time and Temperature
Through loads of experimentation, we've found that cooking the lamb souvlaki at 57.5C/136F for 1 hour is the perfect combo. Leaving the lamb in for 1 hour results in a super juicy, firm burger. Also, cooking it at a temperature of 136F is the sweet spot for that perfect edge to edge rosy color. Just make sure you have a reliable sous vide that accurately regulates the temperature of the bath or your results may vary (check out the Anova or Joule). For other time and temperature options, check out our cooking guide here.
Special Equipment
Sous Vide Machine – This one is obvious. To cook sous vide, you're going to need a device to precisely regulate the temperature of the bath water. The two best sous vide machines in the game right now are the Anova Precision Cooker and the Breville Joule. The main difference between the two is that with the Anova you can control the device both manually and with a mobile device, and with the Joule you can only control the device by using your mobile device. Either way, both sous vide machines are top class and you can't go wrong with either choice.
12-quart Container – Although you can use a basic stockpot for your sous vide cooking needs, I highly recommend buying a large plastic container. They are inexpensive and spacious, so you won't have to worry about cooking a big roast in a small pot. I recommend a 12 quart Rubbermaid container, as it is BPA free, sturdy, and large enough for just about anything you will be cooking.
Container Lid – If you are going to buy a plastic container, I highly suggest buying a compatible lid for it. When you sous vide for a long duration, the heat of the water causes evaporation. With a lid, it eliminates a majority of the evaporation so you can cook for 72 hours care-free.
Cast Iron Skillet – If you are looking to take your searing game to the next level, we recommend investing in a cast iron skillet. By using a cast iron in this recipe, you'll achieve a deep sear on the lamb burgers. Cast irons are also extremely handy for searing just about any and all sous vide meat. Lodge offers the best quality and price, which is why it is our favorite cast iron brand.
Check out our full list of recommended gear here.
Sous Vide Lamb Souvlaki and Homemade Tzatziki
Prep Time
4
hours
10
minutes
Hands-On Cook Time
10
minutes
Total Time
5
hours
20
minutes
Ingredients
Souvlaki
3-4

lbs

lamb leg or shoulder, cut into 1 inch chunks

½

cup

extra virgin olive oil

½

cup

fresh lemon juice

2

cloves

garlic, crushed

1

teaspoon

dried oregano

1

teaspoon

onion powder

Salt and Pepper to taste

10

skewers, metal or wooden
Homemade Tzatziki
1

cup

plain Greek yogurt

1

tablespoon

fresh lemon juice

1

clove

garlic

⅓

large

English cucumber, diced

¼

tablespoon

salt

⅓

tablespoon

fresh dill, chopped

Salt and pepper to taste
Instructions
Prepping Lamb Souvlaki
In a large bowl, mix together the olive oil, lemon juice and garlic. Add the lamb chunks, season with ground pepper and stir to coat. Cover the bowl and refrigerate for a minimum of 4 hours.

After the meat has marinated, set sous vide machine to 57.5C/136F.

Place lamb in freezer bag with the marinade (See Note 1). Remove the air through a vacuum sealer or the displacement method. Drop the bag in the bath for an hour.
Finishing Lamb Souvlaki
Remove bag from bath. Take lamb out of the bag, pat dry, season with oregano, onion powder, and salt and pepper to taste. Thread the lamb chunks onto to skewers (See Note 2). Set the bag containing the liquids to the side.

Turn grill on high and let the grill heat up for 5 minutes. Place skewers on grill, brush the lamb with the marinade from the bag and grill for 2 minutes. Flip the skewers over, brush the lamb with the marinade and grill for 2 more minutes. Remove skewers from grill and let rest for 5 minutes. Serve with fresh tzatziki, pita, sliced red onions, or enjoy as is!

Alternative instruction - although grilling is recommended, you can also finish the lamb on a pan. Heat medium-size pan on high and add 1 tablespoon of olive oil. Sear for 1 minute on each side, brushing the lamb with the marinade while they cook. Remove from pan, let rest for 5 minutes, and enjoy!
Tzatziki Sauce
Peel cucumber and roughly chop. Sprinkle them with salt, set in colander and place a heavy item on top to draw out water. Let sit for 30 minutes, then drain well and wipe dry with paper towels.

Add cucumbers, garlic, lemon juice, dill and a sprinkle of pepper in a blender or food processor. Blend the mixture until smooth, then stir in Greek yogurt. Add in salt to taste. Place tzatziki in refrigerator for at least one hour to ensure the flavors are blended.
Recipe Notes
Make sure to not overcrowd the bag by placing pieces on top of each other. Use multiple bags if necessary.
If using wooden skewers, make sure to soak them in water for 30 minutes before use.