Prime rib just screams the holidays. It's always been a family tradition of mine to make prime rib for Christmas Eve, and it's always the food highlight of my year. The meal I dream about all year round. Even so, I decided I was going to kick it up a notch. I was going to master the prime rib and make an unrivaled roast that my family and guests would rave about for years to come.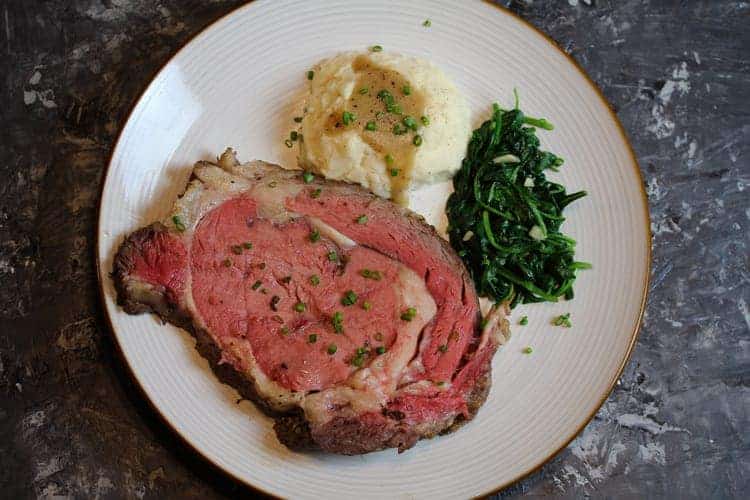 Deciding that I was going to sous vide the prime rib was easy. It is truly the only way to guarantee the meat is tender, juicy and perfectly cooked all the way through. Deciding how to season the prime rib was a little more difficult.
After some experimentation and test runs, I finally figured it out. I created salty, garlicky and herbaceous compound butter that perfectly compliments the flavor profile of the prime rib. This butter compound is all the salt and flavor the prime rib needs for epic taste.
Furthermore, coating the roast in this butter amplifies the Malliard reaction in the oven, which creates a picture-worthy sear.
Add sous vide prime rib and garlic herb compound butter together and you have a fool-proof method of making unforgettable prime rib. Now take this knowledge and become the prime rib master that will be cherished by your family and guests for many moons.
To French or Not to French
"Frenching" is a culinary technique that involves exposing the rib bones by cutting off meat and fat from the bone side of a roast. Frenching is generally used to beautify a dish and make it look fancier.
However, for this recipe frenching makes sense since you are trimming away excess fat in advance that you would end up cutting off later. Plus the prime rib looks absolutely stunning frenched.
If you want to be adventurous and learn a new skill, try frenching the prime rib yourself at home. Just make sure your knife is real sharp so you can effortlessly carve this heavenly piece of meat. I recommend the E5 electric knife sharpener for the job.
If frenching isn't for you, just ask your butcher and they will be happy to do it for you.
Packaging
An essential part of cooking sous vide is putting ingredients in an air-tight bag or container. The two most common techniques to package your ingredients are vacuum sealing and using the water displacement method.
A vacuum sealer removes all the air and seals the contents of a plastic bag through a vacuum. Ensuring the food is airtight and properly sealed prevents the bag from floating, which can result in uneven cooking.
The displacement method is a technique where you first place your food and marinades in a sous vide bag, submerge the bag in a container of water, and allow the pressure to force all the air out of the bag.
Both of these methods work for this recipe, so use whichever you feel more comfortable with!
Time and Temperature
We found that cooking the rib roast at 56C/133F for 8 hours is the perfect combination. Leaving the roast in for 8 hours breaks down the connective tissue (collagen), which results in an extremely tender roast. Also, cooking it at a temperature of 133F is the sweet spot for that perfect edge-to-edge beautiful rosy color.
Just make sure you have a reliable sous vide that accurately regulates the temperature of the bath or your results may vary (check out the Anova or Joule). If you want to explore other time and temperature options, check out our cooking guide here.
Placing Roast in an Ice Bath
Once the prime rib is finished cooking in the sous vide, I recommend immediately transferring it to an ice bath. An ice bath is the term for a big bowl or cooler filled with ice and water.
Placing the standing rib roast in the ice bath for 10 minutes will cool down the external temperature and make it easy to spread the butter compound. If the external temperature is not cooled, the butter will instantly melt.
Alternatively you can cool the prime rib in the refrigerator for 20-30 minutes, or until the external temperature is chilled.
Finishing the Prime Rib
Searing is the most critical step in the sous vide process. Getting a deep, rich sear can make your food look like it is Michelin star quality. Failing to do so will make your dinner guests wonder why they let you cook again.
If you want to get an amazing sear on your rib roast, you've got to:
1. Pat your meat completely dry
2. Coat generously with compound butter
3. Finish at high temps to achieve a deep, rich sear
Applying Compound Butter
First, pat the meat completely dry using paper towels. After the meat is dry, coat the roast generously with the compound butter. The most effective way to spread the butter evenly on the rib roast is with fork or a silicon spatula.
Note that the external temperature of the prime rib needs to be cool to properly apply butter. Please drop the roast in an ice bath or chill in a refrigerator until chilled prior to applying the butter.
Searing the Roast
Last, cook the prime rib at high temperatures to achieve a deep, rich sear. We suggest baking the roast in the oven at 475F for 15 minutes.
This high temperature ensures the butter will melt quick, which amplifies the Malliard reaction and results in a nice crust. Also 15 minutes will make sure the internal temperature of the roast is at serving temperature.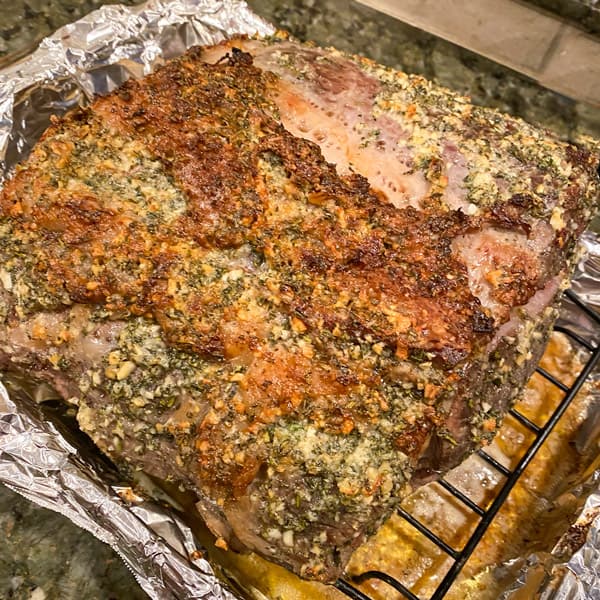 Special Equipment
Sous Vide Machine – This one is obvious. To cook sous vide, you're going to need a device to precisely regulate the temperature of the bath water. The two best sous vide machines in the game right now are the Anova Precision Cooker and the Breville Joule.
The main difference between the two is that with the Anova you can control the device both manually and with a mobile device, and with the Joule you can only control the device by using your mobile device. Either way, both sous vide machines are top class and you can't go wrong with either choice.
12-quart Container – Although you can use a basic stockpot for your sous vide cooking needs, I highly recommend buying a large plastic container. They are inexpensive and spacious, so you won't have to worry about cooking a big roast in a small pot. I recommend a 12 quart Rubbermaid container, as it is BPA free, sturdy, and large enough for just about anything you will be cooking.
Container Lid – If you are going to buy a plastic container, I highly suggest buying a compatible lid for it. When you sous vide for a long duration, the heat of the water causes evaporation. With a lid, it eliminates a majority of the evaporation so you can cook for hours care-free.
FoodSaver Rolls - Finding a bag that can fit a big rib roast is not an easy feat. The best solution we found was to use the FoodSaver Expandable Rolls.
Roasting Pan and Rack – Having a quality roasting pan for this recipe can help achieve an excellent sear in the oven. Made In offers the best quality and price, which is why it is our favorite pan brand.
Next Level Sous Vide –Looking to take your sous vide skills to the next level? The Next Level Sous Vide eCookbook will push your culinary boundaries with 65 delicious recipes that are equally approachable and tasty. With pro tips and a detailed explanation of the sous vide process, you will be on your way to maximize your sous vide skills.
Check out our full list of recommended gear here.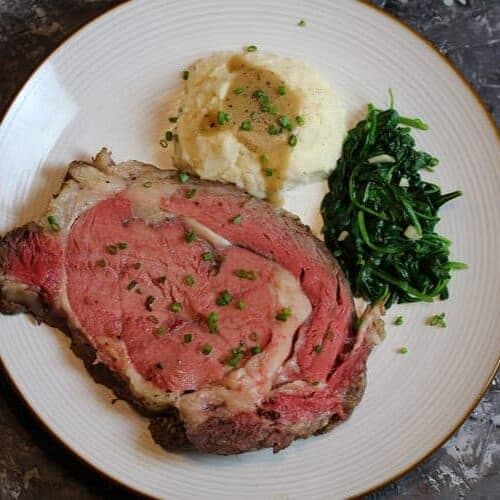 Sous Vide Prime Rib Roast
Hands-On Cook Time
25
minutes
Total Time
8
hours
30
minutes
Ingredients
5 -7

lb

prime rib roast

1

cup

unsalted butter, softened

6

cloves

garlic, minced

2

tablespoon

fresh rosemary, chopped

2

tablespoon

fresh thyme, chopped

1

tablespoon

salt

1

tablespoon

Lawry's seasoning salt

1

tablespoon

black pepper
Instructions
Preparation
Set sous vide machine to 56C/133F.

Salt the rib roast to taste. Put the roast in a freezer bag, and remove the air through a vacuum sealer or the displacement method. Drop prime rib in the bath for 8 hours.
Finishing
Mix together softened butter, garlic, rosemary, thyme, salt and Lawry's seasoning salt together in a bowl until the compound butter is spreadable.

Remove bag from bath and immediate transfer the roast into an ice bath Let t.he roast chill for 10 minutes. Remove bag from ice bath, take rib roast out of the bag and thoroughly pat dry.

Preheat oven for 475F. Evenly coat garlic herbed compound butter on the entire prime rib. Place rib roast on a baking rack pan and cook for 15 minutes. Check with a meat thermometer to ensure that the internal temperature is 110F or your desired serving temperature.

Remove rib roast from oven. Let rest for 5 minutes. If it is a bone-in roast, carefully carve off the bones making sure not to cut into the roast. Carve the prime rib into slabs and enjoy this heavenly piece of meat. *Pro tip - brush the excess butter and garlic mixture from the pan onto each piece before serving.