Sous vide pulled pork shoulder will send your taste buds straight to Flavortown. And we don't say that lightly…
Thanks to cooking sous vide, the days of dry pulled pork are over. Cooking the pork butt sous vide takes away all the guess work, so you'll have tender, juicy pulled pork every single time.
For this cook, we use our secret blend of spices to elevate the natural flavor of the pork shoulder. Then, we bake the pork low and slow until a nice crust has formed. Once it is done, we let it rest and then shred the delicious, succulent pork. At this point it's time to put together dreamy bbq pulled pork sandwiches, tacos or just about anything.
Do yourself a favor and make this recipe stat.
Choose the Cut
To make incredible pulled pork you want to purchase a fatty pork roast, which is typically either a pork butt or pork shoulder. The pork butt comes from the top of a pig's shoulder and is often referred to as the "Boston butt". The pork shoulder is located at bottom of a pig's shoulder and is often called the "Picnic Roast" or "Picnic Shoulder".
We prefer using a bone-in or boneless Boston butt since it has more fat marbling throughout the meat and a more uniform shape. That being said, a pork shoulder is still a great option that results in delicious pulled pork as well. Note that a pork shoulder may come sold with the skin on, so please remove prior to cooking sous vide.
Packaging
An essential part of cooking sous vide is putting ingredients in an air-tight bag or container. The two most common techniques to package your ingredients are vacuum sealing and using the water displacement method.
A vacuum sealer removes all the air and seals the contents of a plastic bag through a vacuum. Ensuring the food is airtight and properly sealed prevents the bag from floating, which can result in uneven cooking.
The displacement method is a technique where you first place your food and marinades in a sous vide bag, submerge the bag in a container of water, and allow the pressure to force all the air out of the bag.
Both of these methods work for this recipe, so use whichever you feel more comfortable with!
Pulled Pork Time and Temperature
Through loads of experimentation, we've found that cooking the pork shoulder sous vide at 165F for 24 hours is the perfect combo. Leaving the shoulder in for 24 hours breaks down the connective tissue (collagen), which is the sweet spot for extremely juicy meat. Also, cooking the pork butt at a temperature of 165F ensures the meat is tender and easily shreddable.
Just make sure you have a reliable sous vide that accurately regulates the temperature of the bath or your results may vary (check out the Anova or Joule). For other time and temperature options, check out our cooking guide.
Searing the Pork Shoulder
Searing is the most critical step in the sous vide process. Getting a deep, rich sear can make your food look like it is Michelin star quality. Failing to do so will make your dinner guests wonder why they let you cook again.
If you want to get an amazing sear on your pork shoulder, you've got to:
1. Pat your meat completely dry
2. Season generously with seasoning blend
3. Cook low and slow to achieve a deep, rich sear
First, pat the meat completely dry using paper towels. After the meat is dry, lightly brush the roast with olive oil then season generously with the seasoning blend. Note that brushing with olive oil is optional, but will allow the seasoning to stick to the meat better and results in a deeper sear.
Last, cook the pork butt low and slow to achieve a deep, rich sear. We suggest baking the pork roast in the oven at 300F for 45 minutes to an hour, or until a bark has formed. If you consider yourself a bbq master, feel free to finish the pork shoulder off using a barbecue or smoker. The results are fantastic as well!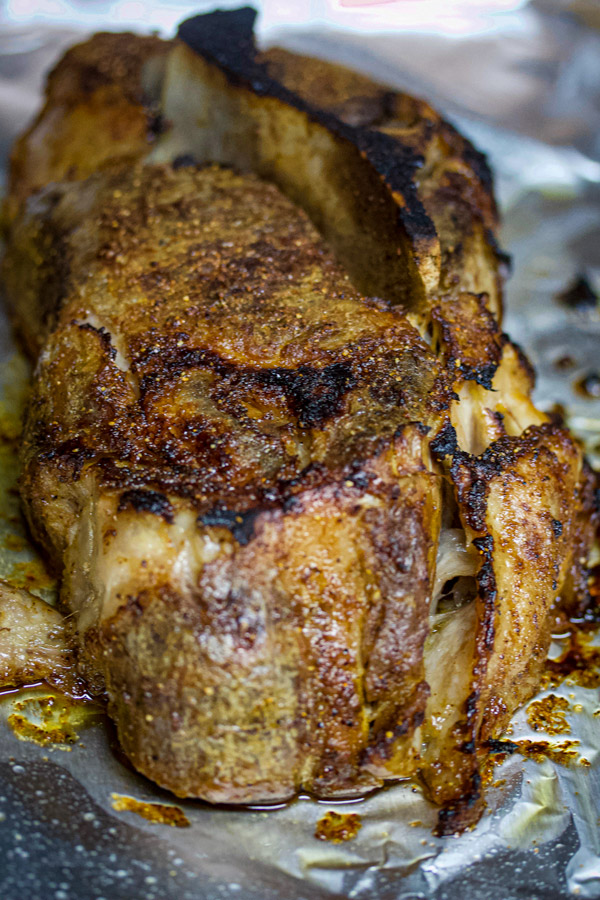 Special Equipment
Sous Vide Machine – To cook sous vide, you're going to need a device to precisely regulate the temperature of the bath water. The two best sous vide machines in the game right now are the Anova Precision Cooker and the Breville Joule.
12-quart Container – Although you can use a basic stockpot for your sous vide cooking needs, I highly recommend buying a large plastic container. They are inexpensive and spacious, so you won't have to worry about cooking a big roast in a small pot. I recommend a 12 quart Rubbermaid container, as it is BPA free, sturdy, and large enough for just about anything you will be cooking.
Container Lid – If you are going to buy a plastic container, I highly suggest buying a compatible lid for it. When you sous vide for a long duration, the heat of the water causes evaporation. With a lid, it eliminates a majority of the evaporation so you can cook for 24 hours care-free.
Roasting Pan and Rack – Having a quality roasting pan for this recipe can help achieve an excellent sear in the oven. Made In offers the best quality and price, which is why it is our favorite pan brand.
Interested in more sous vide essentials? Check out our full list of recommended gear.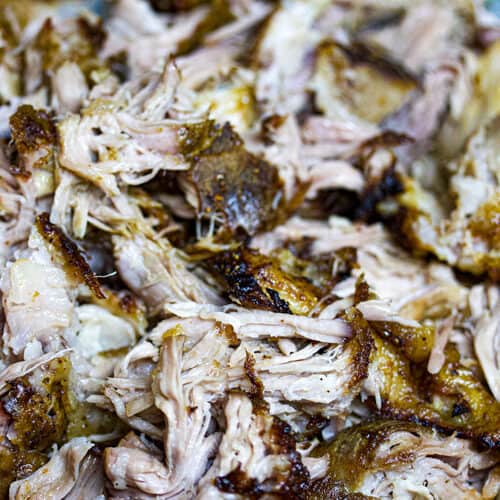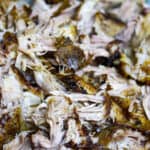 Sous Vide Pulled Pork Shoulder
Hands-On Cook Time
45
minutes
Total Time
1
day
50
minutes
Ingredients
1

3-5 lbs

pork butt (or shoulder), bone-in or boneless

1

tablespoon

paprika

1

tablespoon

chili powder

1

tablespoon

cumin

1

tablespoon

dark brown sugar

1

tablespoon

salt

1

tablespoon

pepper

½

teaspoon

cayenne pepper
Instructions
Preparation
Set sous vide machine to 74C/165F.

In a small bowl combine chili powder, paprika, cumin, brown sugar, pepper, salt and cayenne pepper.

Lightly season the pork shoulder with seasoning, and set aside the rest of the seasoning for later. Put the pork shoulder in a sous vide bag, and remove the air through a vacuum sealer or the displacement method. Drop the bag in the bath for 24 hours.
Finishing
Remove bag from bath. Take pork butt out of the bag and pat dry with paper towels. Brush a thin layer of oil on the shoulder, and season the entire roast generously with the set aside seasoning.

Set oven to 300F, and bake for 45 minutes. Take pork out of oven and let rest for 5 minutes. Once rested, shred pork butt using two forks. Use this delicious, juicy pulled pork in a bbq sandwich, tacos or anything else. Enjoy!