Sous vide tri tip chili is the ultimate dish to get you through the harsh winter. We worked hard on this recipe to create a quick, easy and delicious chili recipe. By adding sous vide tri tip to the chili, it creates an even more brilliant recipe you will dream about.
Confession time, we ate this for 4 straight days it was so good. Give this recipe a try and you won't regret it.
Time and Temperature
Through loads of experimentation, we've found that cooking the tri tip at 131F for 3 hours is an incredible combo. Leaving the tri tip in for 3 hours breaks down the connective tissue (collagen), which results in an extremely tender roast. Also, cooking them at a temperature of 131F is the sweet spot for that perfect edge to edge rosy color. Just make sure you have a reliable sous vide that accurately regulates the temperature of the bath or your results may vary (check out the Anova or Joule). For other time and temperature options, check out our cooking guide here.
Carving the Tri Tip
Slicing tri tip can be a bit tricky since the grain can change direction on the roast. So make sure to take a look at the raw meat and determine which direction the strands of muscle fiber are running on each section of the beef.  After the trip tip is pulled from the sous vide bath, you want to cut the roast in two separate pieces where the grain changes direction. At this point, make sure your knife is real sharp so you can effortlessly carve this heavenly piece of meat. I recommend the E5 electric knife sharpener for the job. Then slice each piece separately against the grain.
Special Equipment
Sous Vide Machine – This one is obvious. To cook sous vide, you're going to need a device to precisely regulate the temperature of the bath water. The two best sous vide machines in the game right now are the Anova Precision Cooker and the Breville Joule. The main difference between the two is that with the Anova you can control the device both manually and with a mobile device, and with the Joule you can only control the device by using your mobile device. Either way, both sous vide machines are top class and you can't go wrong with either choice.
12-quart Container – Although you can use a basic stockpot for your sous vide cooking needs, I highly recommend buying a large plastic container. They are inexpensive and spacious, so you won't have to worry about cooking a big roast in a small pot. I recommend a 12 quart Rubbermaid container, as it is BPA free, sturdy, and large enough for just about anything you will be cooking.
Container Lid – If you are going to buy a plastic container, I highly suggest buying a compatible lid for it. When you sous vide for a long duration, the heat of the water causes evaporation. With a lid, it eliminates a majority of the evaporation so you can cook for 72 hours care-free.
Cast Iron Skillet – If you are looking to take your searing game to the next level, we recommend investing in a cast iron skillet. By using a cast iron in this recipe, you'll achieve a deep sear on the protein. Cast irons are also extremely handy for searing just about any and all sous vide meat. Lodge offers the best quality and price, which is why it is our favorite cast iron brand.
Check out our full list of recommended gear here.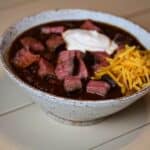 Sous Vide Tri Tip Chili
Hands-On Cook Time
30
minutes
Total Time
3
hours
35
minutes
Ingredients
2-3

lb

Tri tip roast

1

tablespoon

olive oil

1

medium yellow onion, diced

1 (16 oz.)

can

red kidney beans, drained and rinsed

1 (15 oz.)

can

petite diced tomatoes

1 (8 oz.)

can

tomato sauce

2

tablespoon

tomato paste

1 ½

cups

beef broth

2 ½

tablespoon

chili powder

2

tablespoon

ground cumin

1 ½

tablespoon

granulated white sugar

1

tablespoon

garlic powder

1

teaspoon

salt

½

teaspoon

ground black pepper

¼

teaspoon

cayenne pepper
Instructions
Sous Vide Tri Tip
Set sous vide machine to 55C/131F.

Salt the tri tip to taste. Put the tri tip in a freezer bag, and remove the air through a vacuum sealer or the displacement method. Drop tri tip in the bath for 3 hours.

Remove bag from bath. Take tri tip out of the bag, pat dry and season with salt and pepper to taste. Heat pan on high and add oil. Sear for 1 to 2 minutes on each side.

Slice tri tip into bite size pieces and set aside.
Preparing the Chili
Heat a large pot on medium, add olive oil. Once the oil has been heated, add the diced onion. Cook for 10 minutes or until tender, stirring frequently.

Add the chili powder, cumin, sugar, tomato paste, garlic powder, salt, pepper, and cayenne pepper. Stir until onions are evenly coated.

Add the broth, diced tomatoes (with their juice), drained beans, and tomato sauce. Stir well.

Bring the chili to a low boil. Then, reduce the heat to low and let the chili gently simmer (uncovered), for 20-25 minutes, stirring occasionally.

Remove the pot from the heat. Let the chili rest for 5-10 minutes before serving. Add sous vide tri tip to the pot. Serve up with cheddar cheese and sour cream and enjoy!