Sous vide poached eggs are an absolute game-changer. This revolutionary method allows you to make perfectly cooked poached eggs every single time. Time to say goodbye to the days of overcooked yolks and loose whites, and hello to brilliant custardy yolk without fail.
In this recipe, we will walk you through everything you need to know to make the best poached eggs of your life. From how to make poached eggs sous vide, to the best time and temperature, to how to crack open the egg... this recipe has it all.
Why Cooking Eggs Sous Vide Is The Best
You may be wondering why you should sous vide poached eggs. In other words, why should you go through the effort of learning a new method when you might have other techniques down already?
The main reason that I love poaching eggs sous vide is that the results are so good and so consistent. This method is capable of producing perfectly cooked eggs every time. With so much control over the ability to cook your food, you can eliminate the guesswork and create repeatable and tasty results. Also, by having this predictability, you can devote more time to other aspects of your meal.
Another benefit to cooking eggs sous vide is that it is incredibly simple and hands-off. This recipe is as easy as dropping eggs into the bath after setting a pre-determined time and temperature. That means the days of creating whirlpools of vinegar are now over. This convenience makes the cooking experience much more relaxing and enjoyable.

How To Sous Vide Poached Eggs
To get started, set your sous vide machine to 75C/167F. Once the temperature is reached, gently place the whole eggs in the bath using a slotted spoon for 14 minutes.
Once your timer goes off, remove eggs from the sous vide bath with the slotted spoon. Immediately place the eggs into a bowl of ice water for 5 minutes to set the whites.
Once chilled, gently crack each egg over a slotted spoon to remove any excess runny whites. Season the eggs with salt and pepper to taste, and enjoy the delicious poached eggs!
Poached Egg Time and Temperature
After loads of R&D, we've found that cooking eggs sous vide at 75C/167F for 14 minutes is the perfect combo. This time and temperature produce that perfect custard yolk texture that you dream of.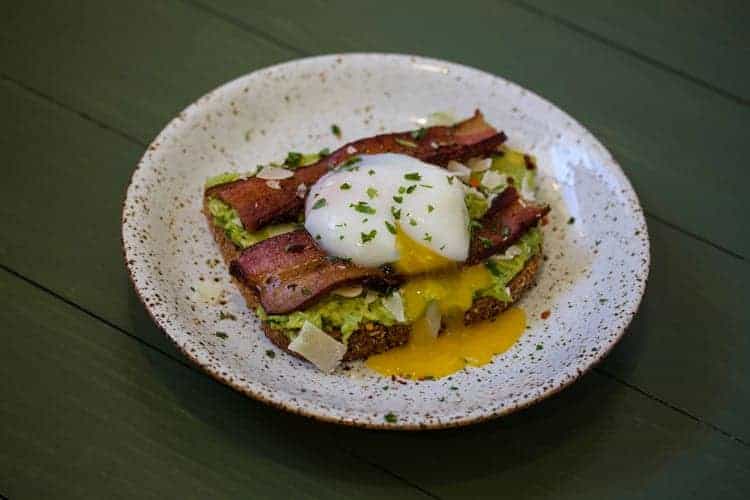 Please make sure to set a timer and pull out the eggs as soon as 14 minutes go by. Eggs cook quickly at this temperature, so any additional minutes in the sous vide can firm up the yolks past the desired amount.
Once the eggs are finished in the sous vide, make sure to put them in a bowl of ice water for 5 minutes. This will help firm up the whites to a traditional texture.
Please make sure you have a reliable sous vide that accurately regulates the temperature of the bath or your results may vary (check out the Anova or Joule). Although we recommend this specific time and temperature for this recipe, feel free to check out our cooking guide for other options here.
How to Crack Open the Egg
The most common and simple method for cracking open a sous vide egg is the tap method. In this technique, lightly tap the eggshell on the kitchen counter or with a spoon. Do this repeatedly while shifting the egg in your palm to ensure the surface area of the egg is cracked. Gently peel an opening and start peeling off the shell.
Please make sure to crack each egg over a slotted spoon to remove any excess runny whites.

What To Use Poached Eggs For
A better question here is "what can't you use poached eggs for?" Poached eggs are a delicious addition to just about any dish, and there are limitless options for using them. I made a list of a few of my favorite applications:
Eat it with your toast
Place it on top of avocado toast
Add it to fresh salads
Use it in a delicious Eggs Benedict
Place them in your shakshuka
Eat one in your veggie bowl
Top Sous Vide Poached Egg Recipes
Unreal Avocado Toast with Poached Egg - Avocado toast is a pure masterpiece. How can you go wrong with mashed avocados seasoned to perfection on top of a fresh, crispy piece of toast? We kick things up a notch in this recipe by adding a sous vide poached egg on top. The results? Perfectly custardy yolk mixing with creamy avocado in each bite. Ya, it's fantastic.

Shakshuka with Poached Eggs - Shakshuka has been one of my favorite dishes throughout my life. It's a perfectly spiced dish of tomatoes, onions, and bell peppers. Add perfect sous vide poached eggs on top and you've got an incredibly delicious dish.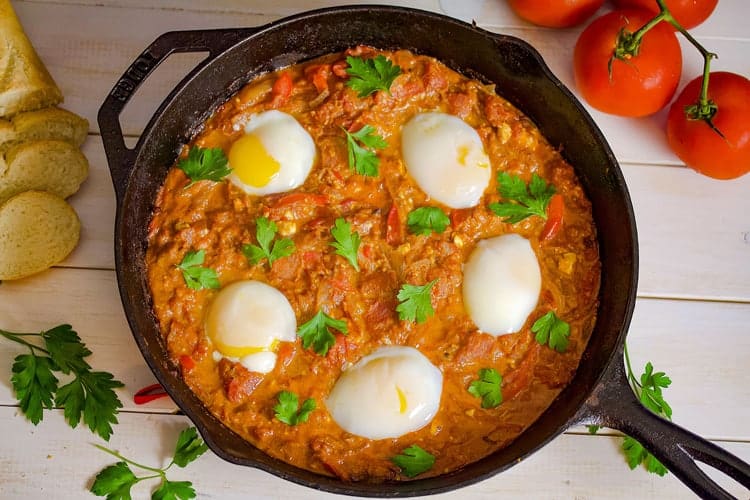 Special Equipment
Sous Vide Machine – This one is obvious. To cook sous vide, you're going to need a device to precisely regulate the temperature of the bathwater. The two best sous vide machines in the game right now are the Anova Precision Cooker and the Breville Joule.
12-quart Container – Although you can use a basic stockpot for your sous vide cooking needs, I highly recommend buying a large plastic container. They are inexpensive and spacious, so you won't have to worry about cooking a big roast in a small pot. I recommend a 12 quart Rubbermaid container, as it is BPA-free, sturdy, and large enough for just about anything you will be cooking.
Container Lid – If you are going to buy a plastic container, I highly suggest buying a compatible lid for it. When you sous vide for a long duration, the heat of the water causes evaporation. With a lid, it eliminates a majority of the evaporation so you can cook for hours care-free.
Next Level Sous Vide –Looking to take your sous vide skills to the next level? The Next Level Sous Vide eCookbook will push your culinary boundaries with 65 delicious recipes that are equally approachable and tasty. With pro tips and a detailed explanation of the sous vide process, you will be on your way to maximize your sous vide skills.
Check out our full list of recommended gear here.
The Best Sous Vide Poached Eggs Recipe
Hands-On Cook Time
5
minutes
Sous Vide Time
14
minutes
Ingredients
4

large

eggs

salt and pepper to taste
Instructions
Set sous vide machine to 75C/167F. Once temperature is reached, gently place eggs in the bath for 14 minutes.

Remove eggs from sous vide bath with tongs. Immediately place eggs into a bowl of ice water for 5 minutes.

Once chilled, gently crack each egg over a slotted spoon to remove any excess runny whites. Place into individual bowls, or straight onto toast, shakshuka or whatever you are making! Season egg with salt and pepper to taste.