Sous vide steak is an absolute game changer. This revolutionary method allows you to make perfectly juicy, tender steak, every single time. Time to say goodbye to the days of overcooked steak, and hello to that brilliant edge to edge medium-rare.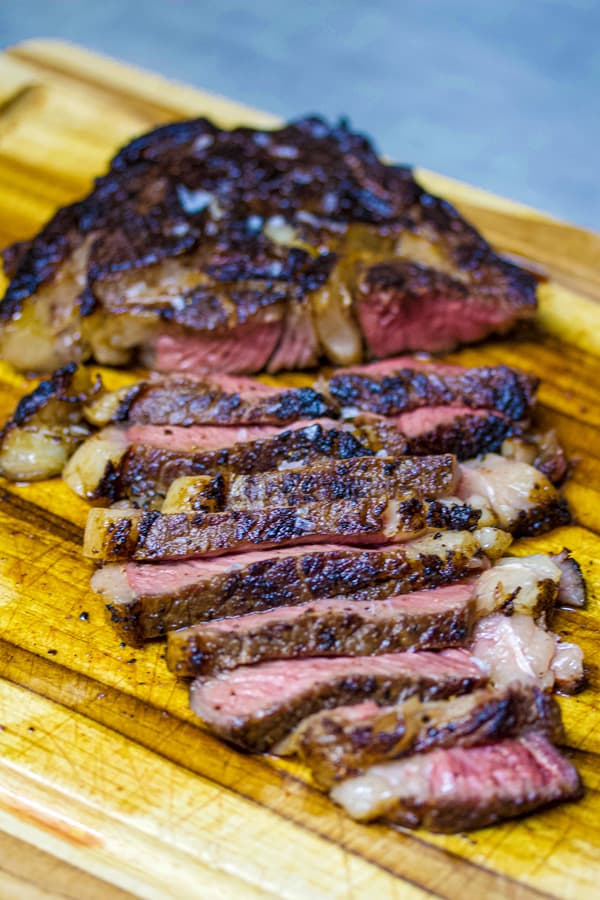 In this recipe, we will walk you through everything you need to know to make the best steak of your life. From what the best steak to sous vide is, to how long to sous vide steak, to different searing methods, this recipe has it all.
Best Steak for Sous Vide
The truth is, there is no such thing as a bad steak for sous vide. By cooking any cut sous vide, you are practically guaranteeing a tender, juicy steak with perfect edge to edge doneness.
However, not all steaks are created equal. The best steak to cook sous vide is one with great marbling (streaks of white fat within lean section of steak) and proper thickness (1 ½ inches or more).
You can find beautiful pieces of meat with great marbling and thickness in cuts such as Ribeye, Strip, Porterhouse/T-bone and Filet Mignon. Typically, your local butcher shop, Whole Foods or Costco will have a great selection of these steaks in both choice and prime grade.
Although I recommend these four cuts of steak, there is no need to discriminate! You can still cook a high-quality, delicious steak from other cuts like flank, skirt, sirloin, hanger and more.
Bone in or Boneless Steak?
Now time to make the decision whether you should purchase a bone in or boneless steak for this recipe. The quick answer, either will result in tender, juicy meat. Also, either can be used interchangeably for most sous vide recipes.
That being said, we prefer using a bone-in steak. They tend to be juicer and more flavorful, and the meat around the bone is to die for. Treat yourself and buy a high quality, bone-in steak (like grass fed, prime grade or Wagyu) for an absolute flavor explosion.
Packaging
An essential part of the sous vide process is putting ingredients in an air-tight bag or container. The two most common techniques to package your ingredients are vacuum sealing and using the water displacement method.
A vacuum sealer removes all the air and seals the contents in a plastic bag through a vacuum. This process ensures the food is airtight and properly sealed, and prevents the bag from floating which can result in uneven cooking. If you are in the market for a vacuum sealer, I'd recommend the Anova sealer.
The displacement method is a technique where you first place your food and marinades in a sous vide bag, submerge the bag in a container of water, and allow the pressure to force all the air out of the bag.
Either method works for steak. Note that if you are adding a marinade in the bag, please make sure your vacuum sealer is capable of sealing liquids. If not, please use the displacement method.
Sous Vide Steak Time and Temp Chart
The time and temperature guide below is the product of years of extensive testing, and will take the guesswork out of cooking sous vide. Simply select a temperature based on your desired doneness, then determine the length of the cook based on the thickness of the protein.
Sous Vide Steak Temperature
| Doneness | Range | Our Favorite |
| --- | --- | --- |
| Medium-Rare | 126 – 135F / 52 – 57C | 131F / 55C |
| Medium | 136 – 145F / 57.5C – 62.5C | 140F / 60C |
| Medium Well | 146 – 155F / 63 – 68C | 149F / 65C |
Sous Vide Steak Cooking Time
| Thickness | Range | Our Favorite |
| --- | --- | --- |
| 1 inch or less | 1 to 2 hours | 1 ½ hours |
| 1 inch to 2 inches | 2 to 3 hours | 2 hours |
| 2 inches or more | 2 to 4 hours | 4 hours |
Our personal favorite is cooking 1" steak at 55C/131F for 1 ½ hours. Cooking the meat for this duration breaks down the connective tissue (collagen), which results in a super tender steak. Also, cooking them at a temperature of 131F is the sweet spot for that beautiful edge-to-edge medium rare.
Just make sure you have a reliable sous vide that accurately regulates the temperature of the bath or your results may vary (check out the Anova or Joule).
Although this is our favorite time and temperature, we recommend you explore different combinations to find your personal favorite. Our cooking guide can always help you find your perfect time and temperature.
Can You Sous Vide Frozen Steak?
The quick answer is, absolutely! Cooking frozen foods sous vide is an ultra convenient, safe way to prepare your protein. Just take the food directly from the fridge, repackage it (unless you know the bag is sous vide safe) and let the sous vide work its magic.
The only thing you'll need to adjust is the cook time. If you are cooking frozen steak sous vide we recommend adding an additional hour to the cook time, so two hours and 30 minutes total for a 1" steak.
Best Way to Sear Steak After Sous Vide
Searing is by far the most important step in cooking sous vide. If want your food to look like it is Michelin star quality, you are going to have to get a rich sear on it. Failing to do so will make your dinner guests wonder why they let you cook again.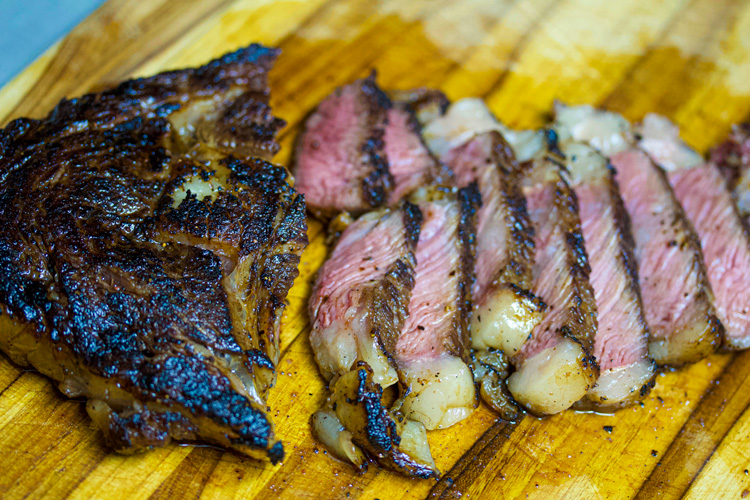 If you want an amazing sear, you've got to:
1. Pat the meat completely dry with a paper towel
2. Season generously with salt or seasoning of your choice
3. Sear at extremely high temperatures.
At this point you want to determine the best searing method. For steak, we suggest pan searing, grilling or using a searing torch. The trick is getting the pan, grill or torch extremely hot, then searing for 1 to 2 minutes on each side. This results in a quick, high-quality sear without overcooking the steak.
Top Sous Vide Steak Recipes
Asian Marinated Flank Steak - This is one of our favorite (if not our favorite) recipes on this website, and a must try for anyone. First off, sous vide flank steak is incredibly tender and juicy with great flavor. Then add a marinade of soy sauce, sesame oil, and garlic to the steak and you will be in heaven.

New York Strip with Homemade Chimichurri - Chimichurri is a herbaceous, garlicky and vinegary sauce that enhances the flavor of steak brilliantly. You can quickly whip up the sauce at home and smother your steak with it. This is what dreams are made of.

Ribeye Steak with Gochujang Butter - In this recipe, we take a timeless Ribeye steak and elevate it by cooking sous vide. Then, we top it with incredibly delicious homemade gochujang butter to really take it to the next level.
Special Equipment
Sous Vide Machine – This one is obvious. To cook sous vide, you're going to need a device to precisely regulate the temperature of the bath water. The two best sous vide machines in the game right now are the Anova Precision Cooker and the Breville Joule.
12-quart Container – Although you can use a basic stockpot for your sous vide cooking needs, I highly recommend buying a large plastic container. They are inexpensive and spacious, so you won't have to worry about cooking a big roast in a small pot. I recommend a 12 quart Rubbermaid container, as it is BPA free, sturdy, and large enough for just about anything you will be cooking.
Container Lid – If you are going to buy a plastic container, I highly suggest buying a compatible lid for it. When you sous vide for a long duration, the heat of the water causes evaporation. With a lid, it eliminates a majority of the evaporation so you can cook for hours care-free.
Cast Iron Skillet – If you are looking to take your searing game to the next level, we recommend investing in a cast iron skillet. By using a cast iron in this recipe, you'll achieve a deep sear on the protein. Cast irons are also extremely handy for searing just about any and all sous vide meat. Lodge offers the best quality and price, which is why it is our favorite cast iron brand.
Next Level Sous Vide –Looking to take your sous vide skills to the next level? The Next Level Sous Vide eCookbook will push your culinary boundaries with 65 delicious recipes that are equally approachable and tasty. With pro tips and a detailed explanation of the sous vide process, you will be on your way to maximize your sous vide skills.
Check out our full list of recommended gear here.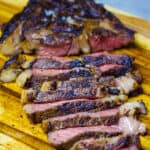 Sous Vide Steak
Hands-On Cook Time
5
minutes
Sous Vide Time
1
hour
30
minutes
Total Time
1
hour
40
minutes
Ingredients
1 - 2

lb

bone in or boneless steak (ribeye, NY, sirloin)

Salt and pepper (or seasoning) to taste
Instructions
Preparation
Set sous vide machine to 55C/131F.

Season steak lightly with salt or a seasoning of your choice. Place meat in sous vide bag and remove the air through a vacuum sealer or the displacement method. Drop the bag in the bath for an hour and a half.
Finishing
Remove bag from bath. Take steak out of the bag, pat dry with paper towels and season with salt and pepper (or seasoning) to taste.

Heat up large skillet on high and add oil. Sear steak for 1 to 2 minutes on each side. Remove from pan, and place on a plate to rest for 5 minutes. Once rested, serve and enjoy! Alternatively sear the beef on a grill or using a searing torch.