Today, we are putting a sous vide twist on an all-time classic, Fettuccine Alfredo. Fettuccine Alfredo is a flat thick pasta tossed in a rich, creamy sauce, and is loved by all near and far. In this recipe, we aim to elevate this timeless dish with plump, juicy sous vide shrimp.
This recipe is all about two things – deliciousness and simplicity. As always, creating a tasty dish is our goal here. The homemade Alfredo sauce is incredibly balanced, and pairs perfectly with succulent sous vide shrimp. Second, you can whip up this dish in about 30 minutes. This recipe is also easy to follow and doesn't require many random ingredients.
Fettuccine Alredo with sous vide shrimp will be a home run in any event, whether it is a dinner party, romantic date or family-style meal. We hope you enjoy!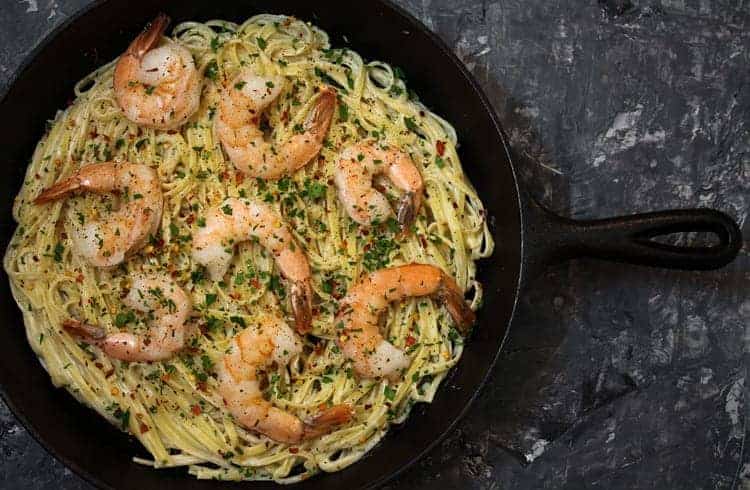 Time and Temperature
Cooking shrimp at 55C/131F for 30 minutes is our favorite time and temperature. Cooking it for 30 minutes is the sweet spot for a tender, juicy shrimp. Also, cooking at a temperature of 131F results in firm shrimp with unbelievable texture. Just make sure you have a reliable sous vide that accurately regulates the temperature of the bath or your results may vary (check out the Anova or Joule).
Although this combination of time and temperature is our favorite, we recommend you explore different combinations to find your personal favorite. To try out other time and temperature options, check out our cooking guide here.
Special Equipment
Sous Vide Machine – This one is obvious. To cook sous vide, you're going to need a device to precisely regulate the temperature of the bath water. The two best sous vide machines in the game right now are the Anova Precision Cooker and the Breville Joule. The main difference between the two is that with the Anova you can control the device both manually and with a mobile device, and with the Joule you can only control the device by using your mobile device. Either way, both sous vide machines are top class and you can't go wrong with either choice.
12-quart Container – Although you can use a basic stockpot for your sous vide cooking needs, I highly recommend buying a large plastic container. They are inexpensive and spacious, so you won't have to worry about cooking a big roast in a small pot. I recommend a 12 quart Rubbermaid container, as it is BPA free, sturdy, and large enough for just about anything you will be cooking.
Container Lid – If you are going to buy a plastic container, I highly suggest buying a compatible lid for it. When you sous vide for a long duration, the heat of the water causes evaporation. With a lid, it eliminates a majority of the evaporation so you can cook for 72 hours care-free.
Check out our full list of recommended gear here.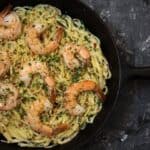 Fettuccine Alfredo with Sous Vide Shrimp
Hands-On Cook Time
15
minutes
Sous Vide Time
30
minutes
Ingredients
1

lb

shrimp, peeled and deveined

1

lb

fettuccine pasta

4

cloves

garlic, minced

1

tablespoon

unsalted butter

1

cup

half-and-half

6

tablespoon

grated Parmesan cheese

1

tablespoon

fresh Italian parsley, chopped

Salt and pepper to taste
Instructions
Sous Vide Shrimp
Set sous vide machine to 55C/131F.

Salt the shrimp to taste. Put the shrimp in a freezer bag, and remove the air through a vacuum sealer or the displacement method. Place in sous vide bath for 30 minutes.

Remove bag from bath. Take shrimp out of the bag, and lightly season with salt to taste. Set shrimp aside.
Preparing the Fettuccine Alfredo
Heat a large pot of salted water until it is boiling. Add fettuccine and cook for 8-10 minutes, or al dente. Once pasta is cooked, drain water.

In a large skillet, add garlic and butter and cook for one minute. Pour in half-and-half and stir to mix ingredients. Slowly mix in Parmesan cheese one tablespoon at a time, stirring constantly. Once all Parmesan is added, salt to taste. Keep stirring sauce frequently to ensure it does not boil, until it is thickened.

Once alfredo sauce has thickened, add pasta and stir until fettuccine is coated with sauce evenly. Top pasta with shrimp, garnish with chopped parsley and enjoy!