Sous vide eggnog custard is a true crowd pleaser. Nothing screams the holidays like eggnog, so why not serve it as a delicious dessert?
Cooking the eggnog custard sous vide is a simply unbelievable method. The flavors are spot on. The texture is perfect. Then add some graham cracker crust to the top and you've got yourself a heavenly dessert.
If you are an eggnog fan, this recipe is for you.
Time and Temperature
Through lots of R&D, we've found that cooking the eggnog custard at 80C/176F for an hour is the perfect combo. This time and temperature gives the dessert that delicious, perfect custard texture that you are seeking. Just make sure you have a reliable sous vide that accurately regulates the temperature of the bath or your results may vary (check out the Anova or Joule).
Once the custard is done cooking in the sous vide, please chill for at least 8 hours for the pie to set.
Special Equipment
Sous Vide Machine – This one is obvious. To cook sous vide, you're going to need a device to precisely regulate the temperature of the bath water. The two best sous vide machines in the game right now are the Anova Precision Cooker and the Breville Joule.
12-quart Container – Although you can use a basic stockpot for your sous vide cooking needs, I highly recommend buying a large plastic container. They are inexpensive and spacious, so you won't have to worry about cooking a large batch of custards in a small pot. I recommend a 12 quart Rubbermaid container, as it is BPA free, sturdy, and large enough for just about anything you will be cooking.
Container Lid – If you are going to buy a plastic container, I highly suggest buying a compatible lid for it. When you sous vide for a long duration, the heat of the water causes evaporation. With a lid, it eliminates a majority of the evaporation so you can cook for hours care-free.
Mason Jars – For this recipe, the only additional equipment you need (besides a sous vide, of course) are 4 oz. canning jars. We prefer using the king of mason jars, Ball, for the job. Ball mason jars are reliable, so you can rest easy knowing the lid will remain sealed while submerged.
Check out our full list of recommended gear here.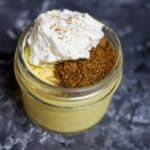 Sous Vide Eggnog Custard
Total Time
1
hour
5
minutes
Ingredients
Eggnog Custard Filling
16

ounces

eggnog, store-bought

8

egg yolks

nutmeg for garnish
Crust
5

graham crackers

1

tablespoon

sugar

3

tablespoon

unsalted butter, melted

¼

teaspoon

cinnamon
Instructions
Preparing the Eggnog Custard
Set sous vide machine to 80C/176F.

In a large bowl, whisk egg yolks together. Add eggnog and whisk again until smooth.

Pour an equal amount of eggnog filling in each canning jar, and screw on the lid of each jar (see note). Gently submerge the entire jars in the bath using rubber tongs, and set a timer for 1 hour.

Remove from bath and let rest on counter top for 30 minutes to cool. Once cooled, transfer the eggnog custards to the refrigerator for a minimum of 8 hours to set the custard. When ready to serve, garnish with the crust (recipe below) and a shake of nutmeg. Now enjoy this heavenly custard straight from the jar!
Preparing the Crust
Preheat oven to 163/325F.

In a food processor, pulse graham crackers until finely crushed. Add sugar and cinnamon and mix until ingredients are combined. Slowly pour in melted butter to mixture while pulsing. Alternatively use a bag to crush the graham crackers then stir in the sugar, cinnamon and butter by hand if you don't have a food processor!

Spread mixture in an even layer on a lined cookie sheet. Bake for 15 minutes, stirring halfway through.

Remove crust mixture from oven, and set aside to cool.
Recipe Notes
The lid should not be put on too tight or the air pressure will not be able to release, causing the jars to shatter in the water. Try only using your fingertips when attaching the lid.
Store in refrigerator for up to 5 days