This is our take on an Italian classic, chicken Parmesan. Chicken Parmesan has every delicious element you'd want in a dish. Breaded chicken breasts, tomato sauce, pasta and cheese. In my opinion, almost nothing is better than that.
In this recipe we give chicken Parmesan a spin by cooking the chicken sous vide. The results? Tender, juicy chicken that is cooked to perfection.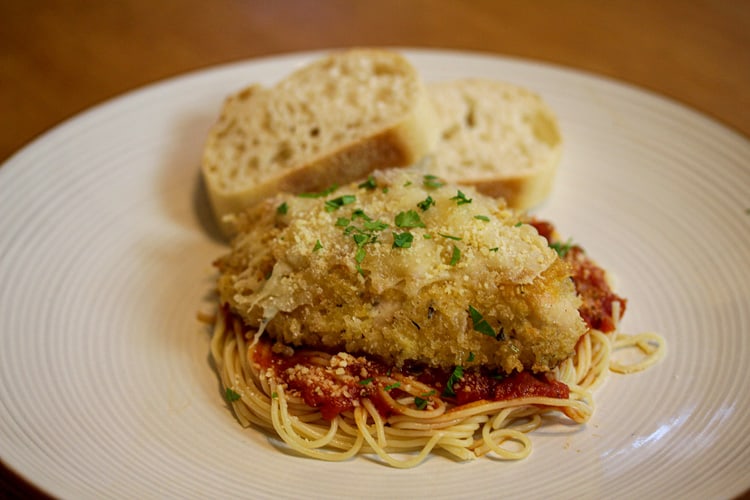 Time and Temperature
We've found that cooking chicken breasts at 60C/140F for 1 hour is the perfect combo. Leaving the chicken in for 1 hour results in a juicy bird that Thomas Keller would be proud of. Also, cooking the chicken at a temperature of 140F ensures the meat is tender with great texture.
Just make sure you have a reliable sous vide that accurately regulates the temperature of the bath or your results may vary (check out the Anova or Joule). For other time and temperature options, check out our cooking guide here.
Special Equipment
Sous Vide Machine – This one is obvious. To cook sous vide, you're going to need a device to precisely regulate the temperature of the bath water. The two best sous vide machines in the game right now are the Anova Precision Cooker and the Breville Joule. The main difference between the two is that with the Anova you can control the device both manually and with a mobile device, and with the Joule you can only control the device by using your mobile device. Either way, both sous vide machines are top class and you can't go wrong with either choice.
12-quart Container – Although you can use a basic stockpot for your sous vide cooking needs, I highly recommend buying a large plastic container. They are inexpensive and spacious, so you won't have to worry about cooking a big roast in a small pot. I recommend a 12 quart Rubbermaid container, as it is BPA free, sturdy, and large enough for just about anything you will be cooking.
Container Lid – If you are going to buy a plastic container, I highly suggest buying a compatible lid for it. When you sous vide for a long duration, the heat of the water causes evaporation. With a lid, it eliminates a majority of the evaporation so you can cook for 72 hours care-free.
Cast Iron Skillet – If you are looking to take your searing game to the next level, we recommend investing in a cast iron skillet. By using a cast iron in this recipe, you'll achieve a deep sear on the protein. Cast irons are also extremely handy for searing just about any and all sous vide meat. Lodge offers the best quality and price, which is why it is our favorite cast iron brand.
Check out our full list of recommended gear here.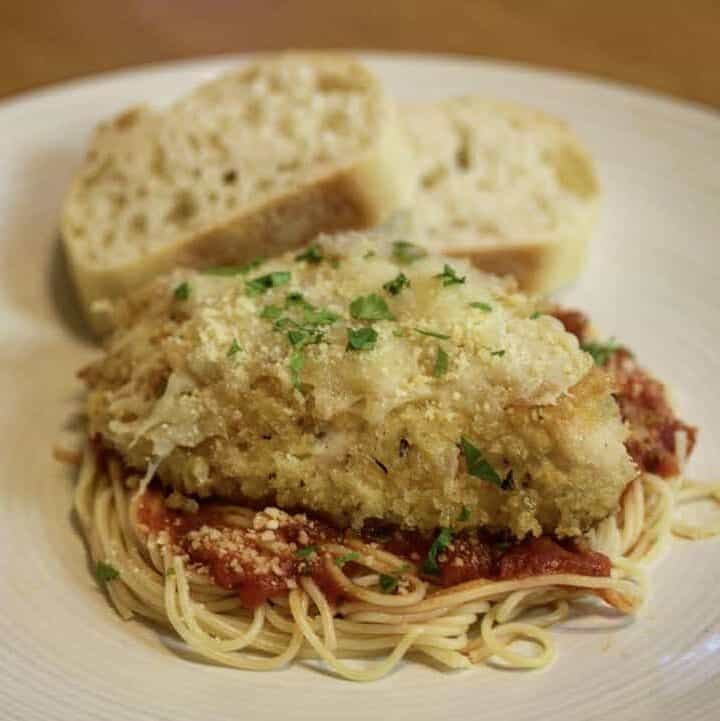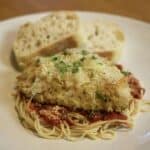 Sous Vide Chicken Parmesan
Hands-On Cook Time
15
minutes
Total Time
1
hour
30
minutes
Ingredients
4

boneless, skinless chicken breasts, halved

1

cup

prepared tomato sauce

½

cup

freshly shaved parmesan

¼

cup

freshly grated parmesan

1

cups

all-purpose flour, seasoned with salt, pepper and 1 tablespoon of Italian herbs

2

large

eggs, beaten

2

cups

panko bread crumbs

½

cup

vegetable oil

1

tablespoon

Dried Italian herbs

2

tablespoon

fresh Italian parsley, chopped

Salt and pepper to taste
Instructions
Preparation
Set sous vide machine to 60C/140F.

Season chicken breasts with salt to taste. Place chicken in freezer bag and remove the air through a vacuum sealer or the displacement method. Drop the bag in the bath for an hour.
Finishing
Remove bag from bath. Take chicken out of the bag, pat dry and season with salt and pepper to taste.

Dredge each breast in the flour and tap off excess, then dip in the egg and let excess drip off. Last, dredge both sides in the bread crumbs.

Add oil to large skillet and heat on high until almost smoking. Add chicken breasts to the pan and shallow fry until golden brown, about 2 minutes each side. Remove from pan.

Turn the oven to broil. Place chicken on foil lined baking sheet, and top with tomato sauce and shaved parmesan. Bake chicken in oven until the cheese is melted, about 2 to 3 minutes. Remove from oven, garnish with Italian parsley and grated parmesan, and enjoy!