Sous vide scallops are an absolute game changer. Cooking the scallops sous vide creates a tender, juicy shellfish that you just can't get with a traditional method. Then, add in some butter, lemon and garlic and you've got yourself foolproof scallops in lemon butter sauce.
The key to this recipe is its simplicity. The recipe takes almost no prep work, and is practically foolproof. Just let the sous vide work its magic, then add butter, lemon and garlic to the scallops in the final stages!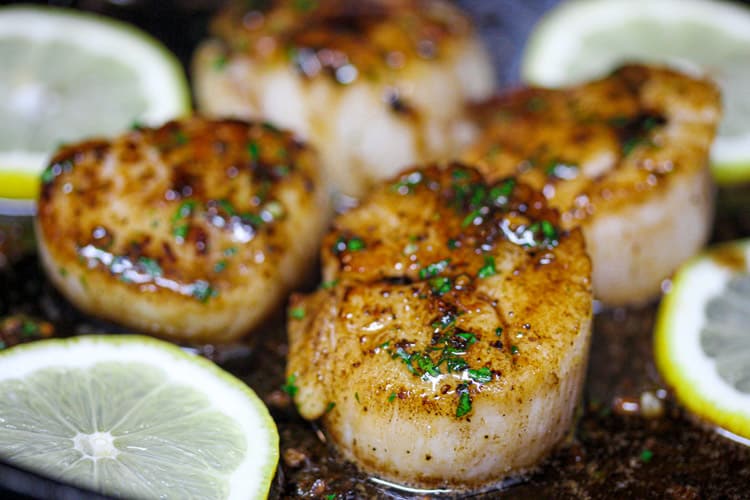 Packaging
An essential part of cooking sous vide is putting ingredients in an air-tight bag or container. The two most common techniques to package your ingredients are vacuum sealing and using the water displacement method.
A vacuum sealer removes all the air and seals the contents of a plastic bag through a vacuum. This process ensures the food is airtight and properly sealed, and prevents the bag from floating which can result in uneven cooking. If you are in the market for a vacuum sealer, I'd recommend the Anova sealer.
The displacement method is a technique where you first place your food and marinades in a sous vide bag. Next, submerge the bag in a container of water, and allow the pressure to force all the air out of the bag. Once all the air is out, zip up the bag and you're all set!
Both techniques work for this recipe, so use whichever you feel more comfortable with!
Scallop Time and Temperature
Cooking scallops at 52C/125F for 30 minutes is our favorite time and temperature. Cooking it for 30 minutes is the sweet spot for a juicy scallops. Also, cooking at a temperature of 125F results in a tender shellfish with unbelievable texture, every time.
Just make sure you have a reliable sous vide that accurately regulates the temperature of the bath or your results may vary (check out the Anova or Joule).
Although this combination of time and temperature is our favorite, we recommend you test different combinations to find your personal favorite. To explore other time and temperature options, check out our cooking guide here.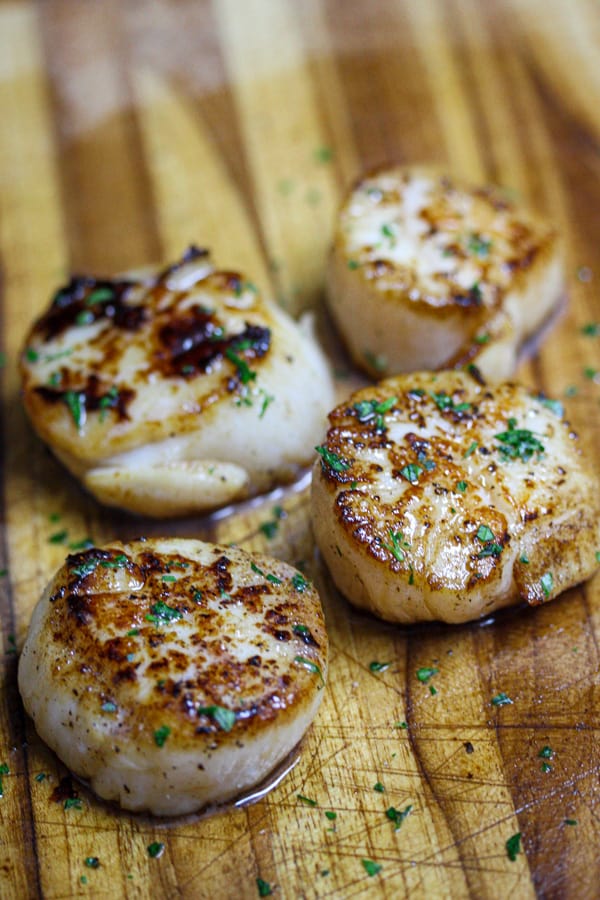 Can You Sous Vide Frozen Scallops?
The quick answer is, absolutely! Cooking frozen foods sous vide is an ultra convenient, safe way to prepare your protein. Just take the food directly from the fridge, repackage it (unless you know the bag is sous vide safe) and let the sous vide work its magic.
At this point, the only thing you'll need to adjust is the cook time. If you are cooking frozen scallops sous vide we recommend adding an additional 30 minutes to the cook time, so one hour total for the shellfish.
Best Way to Sear Scallops After Sous Vide
Searing is the most critical step in the sous vide process. Getting a deep, rich sear can make your food look like it is Michelin star quality. Failing to do so will make your dinner guests wonder why they let you cook again.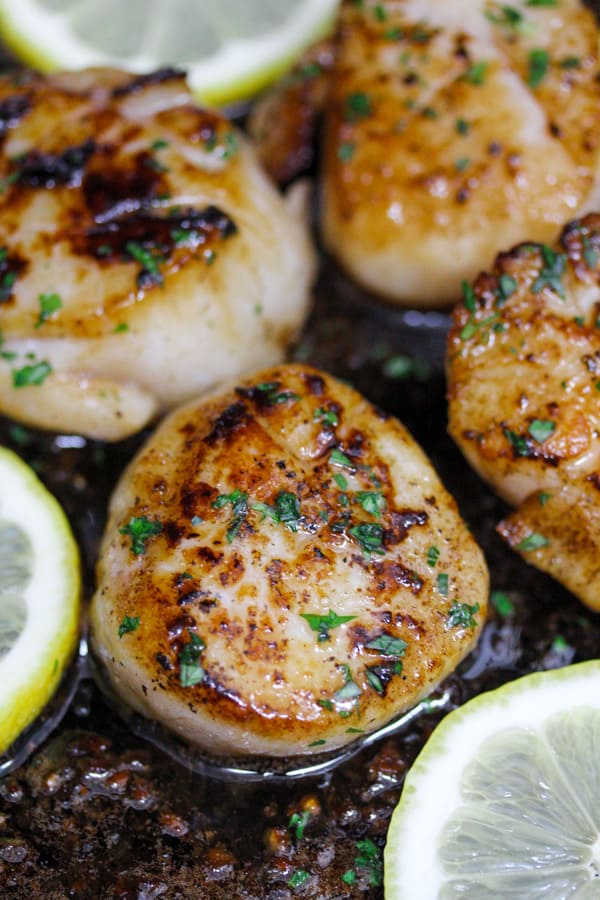 If you want to get an amazing sear on your scallops, you've got to:
1. Pat the meat completely dry with a paper towel
2. Season generously with salt and pepper to taste
3. Sear at extremely high temperatures.
First, pat the shellfish completely dry using paper towels. After the meat is dry, season generously with salt and pepper or a seasoning of choice.
At this point you want to determine the best searing method. For scallops, we suggest pan searing. The trick is getting the pan extremely hot, then searing for 30 seconds to 1 minute on each side. This results in a quick, high-quality sear without overcooking the fish.
Special Equipment
Sous Vide Machine – This one is obvious. To cook sous vide, you're going to need a device to precisely regulate the temperature of the bath water. The two best sous vide machines in the game right now are the Anova Precision Cooker and the Breville Joule.
The main difference between the two is that with the Anova you can control the device both manually and with a mobile device, and with the Joule you can only control the device by using your mobile device. Either way, both sous vide machines are top class and you can't go wrong with either choice.
12-quart Container – Although you can use a basic stockpot for your sous vide cooking needs, I highly recommend buying a large plastic container. They are inexpensive and spacious, so you won't have to worry about cooking a big roast in a small pot. I recommend a 12 quart Rubbermaid container, as it is BPA free, sturdy, and large enough for just about anything you will be cooking.
Container Lid – If you are going to buy a plastic container, I highly suggest buying a compatible lid for it. When you sous vide for a long duration, the heat of the water causes evaporation. With a lid, it eliminates a majority of the evaporation so you can cook for hours care-free.
Cast Iron Skillet – If you are looking to take your searing game to the next level, we recommend investing in a cast iron skillet. By using a cast iron in this recipe, you'll achieve a deep sear on the protein. Cast irons are also extremely handy for searing just about any and all sous vide meat. Lodge offers the best quality and price, which is why it is our favorite cast iron brand.
Next Level Sous Vide –Looking to take your sous vide skills to the next level? The Next Level Sous Vide eCookbook will push your culinary boundaries with 65 delicious recipes that are equally approachable and tasty. With pro tips and a detailed explanation of the sous vide process, you will be on your way to maximize your sous vide skills.
Check out our full list of recommended gear here.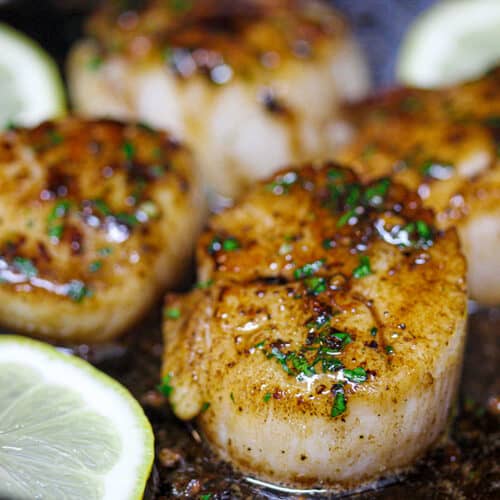 Sous Vide Scallops in Lemon Butter Sauce
Hands-On Cook Time
5
minutes
Sous Vide Time
30
minutes
Ingredients
1

lb

scallops

3

tablespoon

unsalted butter

2

cloves

garlic, minced

2

tablespoon

lemon juice

Italian parsley, finely chopped for garnish
Instructions
Preparation
Set sous vide machine to 51.5C/125F.

Season scallops lightly with salt and pepper. Place scallops in sous vide bag and remove the air through a vacuum sealer or the displacement method. Drop the bag in the bath for 30 minutes.
Finishing
Remove bag from bath. Take scallops out of the bag, pat dry with paper towels and season with salt and pepper to taste.

Heat up large skillet on high and add 1 tablespoon butter. Sear scallops for 30 seconds to 1 minute on each side. Remove from pan, and place on a plate to rest.

Remove skillet from heat and let pan cool for two minutes. Once cooled, place skiller on medium low heat and add 2 tablespoon of butter and minced garlic. Cook until garlic is fragrant, roughly 1 minute. Add in lemon juice and salt and pepper. Mix sauce until ingredients are well combined.

Add back the scallops to skillet and baste with the lemon butter sauce. Garnish with fresh chopped Italian parsley and enjoy!