For those of you who have had the "slut" at Eggslut, you already know the glory of this dish. For those of you who haven't, let me give you the run down. The "slut" is a coddled egg on top of silky smooth potato purèe in a glass jar, served with slices of baguette. When you first dunk the slice of bread into the jar, the egg explodes its yolky goodness and combines with the potato purèe. This creates a yolky, potatoey mixture that is heaven-sent.
As you can probably tell, I really really like this dish. Which is why I desperately wanted to figure out a recipe that would rival the "slut" by Eggslut. After testing several potato purèe recipes and egg cooking times and temperature, I figured out a worthy copycat recipe. Now I am pleased to share this recipe with you, in hopes that it'll bring you as much joy as it still brings me.
Time and Temperature
After loads of R&D, we've found that cooking the "slut" sous vide at 65C/149F for 30 minutes is the perfect combo. This time and temperature produces that perfectly runny yolk but firm whites that you dream of. Just make sure you have a reliable sous vide that accurately regulates the temperature of the bath or your results may vary (check out the Anova or Joule). Although we recommend this specific time and temperature for this recipe, feel free to check out our cooking guide for other options here.
Special Equipment
Sous Vide Machine – This one is obvious. To cook sous vide, you're going to need a device to precisely regulate the temperature of the bath water. The two best sous vide machines in the game right now are the Anova Precision Cooker and the Breville Joule. The main difference between the two is that with the Anova you can control the device both manually and with a mobile device, and with the Joule you can only control the device by using your mobile device. Either way, both sous vide machines are top class and you can't go wrong with either choice.
12-quart Container – Although you can use a basic stockpot for your sous vide cooking needs, I highly recommend buying a large plastic container. They are inexpensive and spacious, so you won't have to worry about cooking a big roast in a small pot. I recommend a 12 quart Rubbermaid container, as it is BPA free, sturdy, and large enough for just about anything you will be cooking.
Container Lid – If you are going to buy a plastic container, I highly suggest buying a compatible lid for it. When you sous vide for a long duration, the heat of the water causes evaporation. With a lid, it eliminates a majority of the evaporation so you can cook for 72 hours care-free.
Mason Jars - For this recipe, the only additional equipment you need (besides a sous vide, of course) are 4 oz. canning jars. We prefer using the king of mason jars, Ball, for the job. Ball mason jars are reliable, so you can rest easy knowing the lid will remain sealed while submerged.
Next Level Sous Vide –Looking to take your sous vide skills to the next level? The Next Level Sous Vide eCookbook will push your culinary boundaries with 65 delicious recipes that are equally approachable and tasty. With pro tips and a detailed explanation of the sous vide process, you will be on your way to maximize your sous vide skills.
Check out our full list of recommended gear here.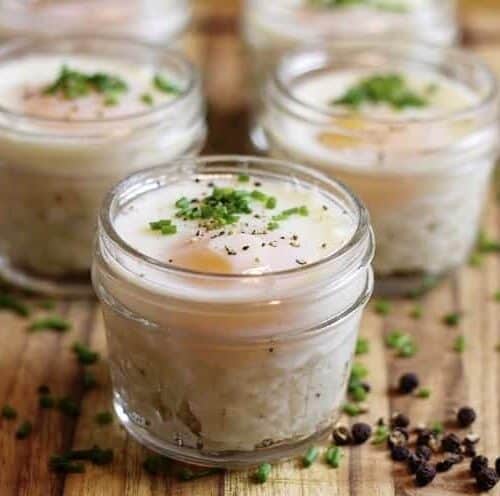 "Slut" by Eggslut Copycat - Sous Vide Egg and Potato Purée
Hands-On Cook Time
20
minutes
Sous Vide Time
30
minutes
Ingredients
6

large

eggs

1

large

russet potato

toasted bread/baguette

5

ounces

unsalted butter

¾

cup

cream

2

cloves

garlic

2

tablespoon

thinly sliced chives

Salt and pepper to taste

6

4 ounce

canning jar with lid
Instructions
Set sous vide machine to 65C/149F and bring a small pot of water to a boil.

Peel and slice the potato into medium-sized chunks. Peel the cloves of garlic.

Once the water is at a rolling boil, place garlic, potatoes and a pinch of salt into the boiling water. Cook until fork-tender, about 15 to 20 minutes. Strain the potatoes and garlic in a colander, and place into a mixing bowl. Mash the potatoes using a masher, ricer, or fork.

In a small bowl, melt butter in the microwave for 20 seconds. Fold in the melted butter and cream to potatoes, and season with salt and pepper to taste. Mix the potatoes until the mixture is well combined. Press mixture through a fine mesh sieve or beat with an electric hand mixer until the potatoes are silky smooth.

Place the potato purée in a piping bag and pipe the mixture into each mason jar, about ⅓ full. Crack one egg on top of the potato purée, and put the lid on each jar (finger-tip tight).

Gently place the sealed jars in the bath for 30 minutes.

Remove the jars from the water with tongs, open the lids, and garnish with a sprinkle of chives. Mix the eggs, potatoes and chives together, and enjoy this heavenly combination with toasted bread or a fresh baguette.
Recipe Notes
The lid should not be put on too tight or the air pressure will not be able to release, causing the jars to shatter in the water. Try only using your fingertips when attaching the lid.